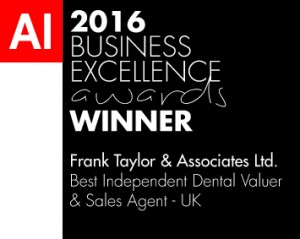 Frank Taylor & Associates wins Business Excellence Award two years in a row!
We are delighted to announce that Frank Taylor & Associates has been awarded an AI Business Excellence Award for the second year running.
Awarded the 2016 award for "Best Independent Dental Valuer & Sales Agent – UK" in the highly regarded business awards, this prestigious accolade clearly sets Frank Taylor & Associates apart from the competition.
The 2016 Business Excellence Awards identify and honour the most respected companies and their staff, whilst recognising and rewarding outstanding performance, success, innovation and ethics across international business communities.
Lis Hughes, Managing Director of Frank Taylor & Associates said, "We are delighted to have been awarded an AI Business Award for a second time. This achievement clearly demonstrates our team's outstanding dedication to providing quality services time and time again.  We know we do a good job and pride ourselves on the high rate of word of mouth referrals we receive directly from our clients and this award further confirms it."